Tears of Joy in the Garden of Giants
December 2005
Digital painting made in December 2005 using pencil sketches and Photoshop coloring. Served as a prototype for the painting.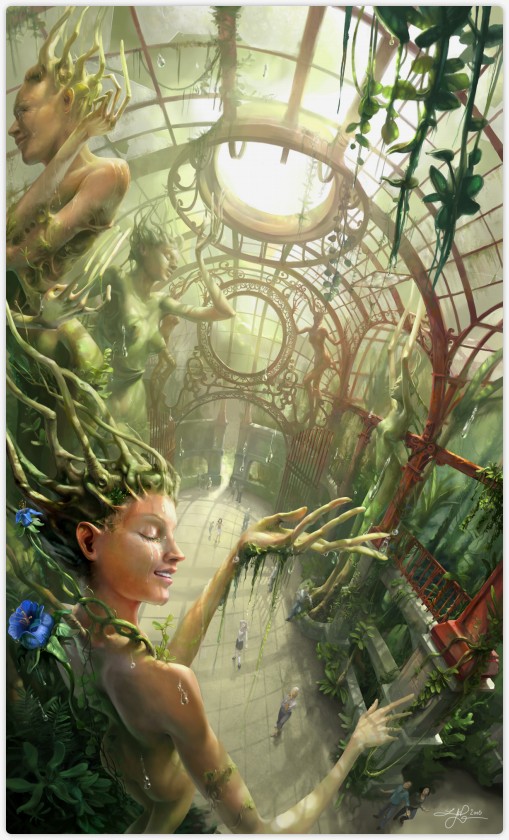 I had this thought one day about the fact that feelings belong to oneself, and that it was foolish to pretend being able to share. Later I found that maybe, thanks to art, their was a possibility for the sharing to happen.
As an artist, I consider it's my mission to give shape and color to feelings that otherwise are trapped within an individual. With time I turned to be a quite "romantic" person, in the literary definition of the term, i.e. a person who is fascinated by the spectacle of his own feelings.
In the immense diversity of emotions one can feel, I choose to extract a striking and rare one and turn it to spectacle. This emotion is a joy so immense that it makes cry tears; smiling and weeping at the same time, the widest range of behaviors concentrated in one single emotion.
As a general rule: Contrast makes Intensity.
With this idea in mind (and the heart filled with this very emotion) I built that scenario in which some external people would be eventually the spectators of this very intense feeling.
'... there was a bunch of beautiful seeds that ancient gardeners had planted one hundred years ago. Men built a beautiful glass roof to protect their growth. Gardeners fed them with love and with water, thus they grew up well.
Time passed and the old gardeners too. Men slightly became uninterested in nature and the building was left aside.
Men had chosen to have the Progress grow up instead of seeds. Abandoned, nature started to behave strangely; the weather became disturbed all around the globe.
One day a strange thing happened. A sun extremely bright was warming up the earth, and suddenly a warm rain started to fall at the same time.
Under this unique rain shower, the giant plants woke up. In front of astonished wanderers they unfolded their branches and extended their fingers to the sky.
Joyful teardrops flooding their wooden eyes, for once in a one century lifetime the giants plants were crying to the rain.'