Purple Spattered Memories
June 2006
Oil painting on canvas - 80x100 cm ( 31.5x40 inch )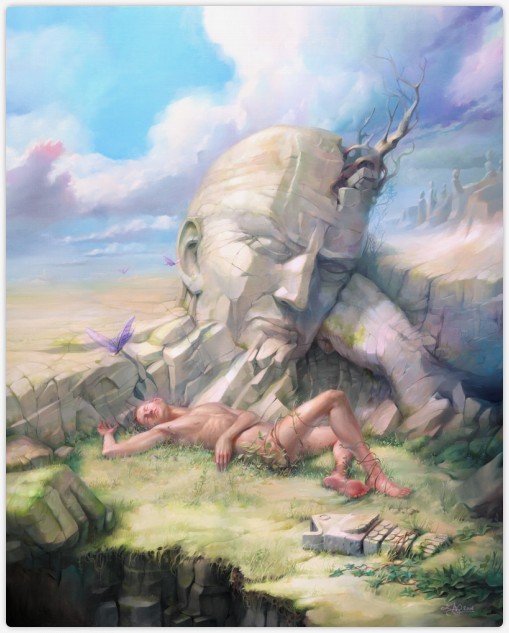 Just like time eroding the tenderest stone
Memories have carved their way
Throughout my headbone,
I remember the wind blowing so cold
Biting your skin just like a blade
and I'm alright, you said
You said: for once I feel
I recall everything
The freeze tinting your cheeks with purple
Every mistake, every stumble
And each footstep you made
into the sand
I look at you
How long am I bound to stand?
Here, you seem so untrue
Desperately peaceful and quiet
Oui je me rappelle du vent, mordant et froid
Je me souviens que la vie ne faisait aucun doute
Quel rêve, quelle magie ai-je perdus en route?
Peut-être n'étais-je alors
Pas assez libre ni assez droit
Et les folies je me rappelle!
Les mots portés si près du ciel
J'ai vu s'évanouir en volutes blessées
Les tâches mauves des jours défaits
Comme le goût du cassis fut amer...
Aujourd'hui, je m'efface et m'endors
Si les échos des rires ne viennent plus à moi
Si je retiens mon sort à l'écart des chimères
Reclu au plus près de la terre
Je pourrai taire le remords, je crois.