Pas d'Ange
November 2008
Oil painting on canvas - 70x165cm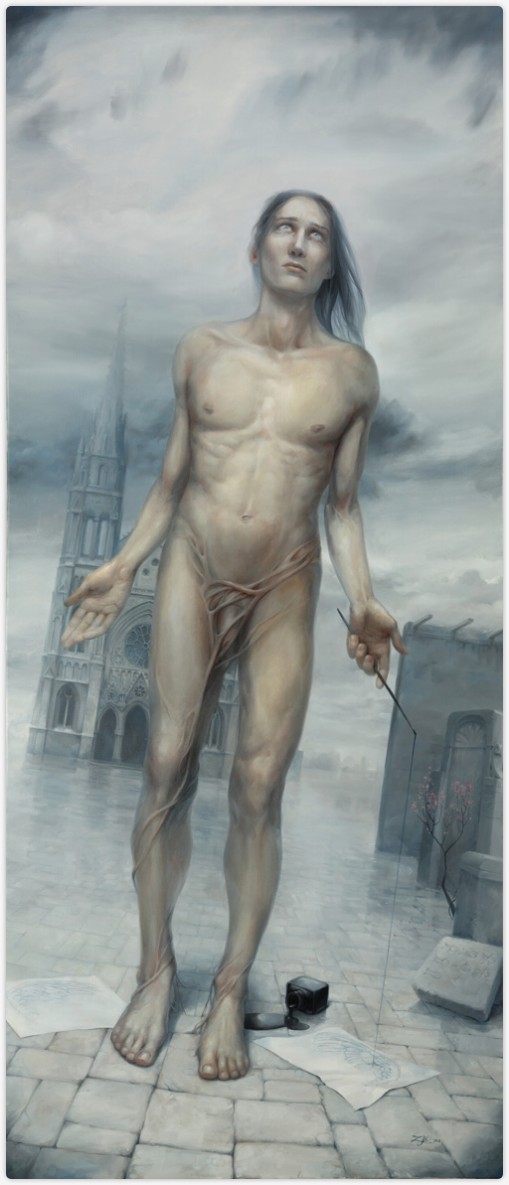 Pas d'Ange ( No Angel )


There you are, in the box I enclosed you in. This is the place you'll live from now on, if any life there could be in your grayish palette.
I can't watch anymore whatever lively you have, precisely: your woven skin covered with paint, your touchable surface, and inside each chip of it the sullen fervor of the hours spent. So I ditched you at the top of a closet, and laid you on your side, in order to block your vertical aspirations. You are just a landscape now, panoramic version, so that your nakedness and your dangling look make me think of a tank fish, that would simply wonder where, where the hell have the shrimp flakes been, it was supposed to be time for food, wasn't it? _ your very tank fish's existential question.

I already forgot what you wanted to say. Though you have used your speaking time, I admit. Your bewitched words, your pretentious propensity for premonition; that dull evening of rain and despondency when you printed this clear image in my brain, making me seize an empty canvas and lock myself in my room, and spend hours of night throwing oils and White Spirit to write down your message and dilute my misunderstood rage.
That very evening, you, you already knew.




Some technical insight
The church is Saint-Louis des Chartrons in Bordeaux, a neo-gothic construction that watch for my small neighborhood. For some reasons I wanted to paint a facial view of it, but this viewpoint is impossible to get since the church is closely surrounded by small buildings that occlude every sight.
The only view you can get is from ground level, but the perspective makes it totally distorted. So I had to rebuild the view from various informations: I counted the number of brick rows for each floor. Made a few sketches, took various pictures. Then I went the other side of the river, right in front of the church, where I could see two towers from very far, thus undistorted by perspective. With the information of the total height ( found on the web ) I managed to solve the jigsaw puzzle by sticking the various pictures in photoshop.
In the end, the view you see in the painting is, I hope, close to reality, but cannot be seen in real life.