No Doll
December 2011
Oil painting on canvas - 27x65 inch (70x165cm)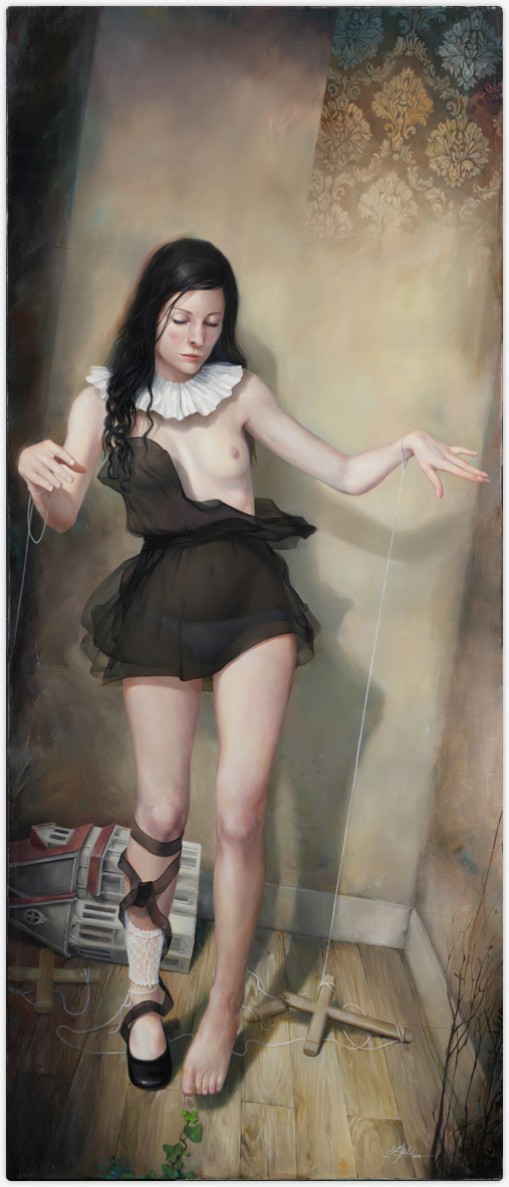 The project has its roots a number of years ago. I discovered a note scribbled on an old sketchbook saying "angel and doll ", the idea of a diptych that was exploring two classic themes, with a twist. It was from 2005.
After a dense history in the preparatory phases, I finally started to paint the actual canvas on January 1st 2011, at 00:00 AM and completed it on December 31st.

Concept
No Doll rejects the overused analogy between humans and puppets bound to a will they don't control, by depicting a doll whose puppeteer has gone, who has to start her own route. This young woman making her first step toward life _ bare to show fragility and feminineness_ can be imagined here transiting to adult age, or at least gaining her independency. It could be seen as a rendition of the free will in a somewhat theological way.

It is connected with Pas d'Ange to form a conceptual diptych.


Genesis
Some time after the initial, rough notes about this concept, I studied a portraying project that had no apparent relationship with this one, and which had me mount a canvas the size of a person standing.
In 2007, in an impulse that had drama and mysticism in it, I happened to seize this very canvas and pour with my bare hands the paint that would later give birth to Pas d'Ange.
With this little retrospective I want to bring up the ways how an idea can survive passing years without falling into oblivion, but it the meantime, it get nourished by a number of events or changes of mind. No Doll gathered a number of connecting ideas to make a solid, consistent concept out of them.
I had done a number of sketches for my doll project already ( Doll concept, Doll sketch ). When the parallelism between this one and Pas d'Ange appeared to me I studied the possible dialogs between the two. (see Study for No Doll )

The same way as Pas d'Ange negates the idea of the heavenly creature by showing a bare, manly and earthly character, seemingly abandoned, questioning the above, No Doll now negates the idea of the human being trapped and bound, making a courageous step toward what seems wild and green and could simply be called life. This is a painting with substantial positivism, hence the warmer color scheme.

Many thanks to Joëlle ( Jo Doll ) who was part of the initial project and who answered to my demand of being the model, years after.