Mercredi 30 Avril 2008
(from
this journal entry
on deviantArt)
I'm about to tell the story of this simple sunday that I just went through, now that I finally sit down, a steaming herb tea on my left side, dressed in tee-shirt and white, comfy linen pants, bare feet, with the spring air coming from the backyard's garden, rather fresh onto my naked arm. The chant of sparse, but heavy raindrops falling down on various types of lush has just begun, giving me company. I only arrived a few minutes ago and I suppose the three of my roommates were already asleep in the silent house upstairs. The smell is that of the freshly cut grass whose chlorophyl gets powerfully spread by rain into the air.
Everyone agrees that it was the first weekend of spring. We've seen bare shoulders, pinky sunburns, mini dresses and smiling faces in endless amounts.
Waking up at eleven wasn't this lazy a morning considering how late I went to bed: it was about six, the time needed to get emotionally brutalized by a girl, to gather with friends and talk about art needs, work out my last painting's scan, write two blog entries and a poem, then drive back home.
They all had forecasted a rainy day so it came as a nice surprise when pulling up the blinds. Moreover it seemed that the first try at this new pillow that I offered myself yesterday wiped out the bad headache I never miss to catch when waking up late.
Moments after, as I was sitting across the backyard door, expelling for good my heartache worries in lovely-shaped words, sipping coffee while my perfumed laundry of white shirts was luminously drying into the sun, I thought that all in all, this was how a sunday with no expectations turns out into a delightful mix of lively blends.
Once my thoughts poured on the paper and since the sun was determined to continue its bright trick I stuffed my bag with various sketchbooks and walked to the tram station, a warm coat across my arm _ fools! I see all you in tees. You never know how chilly an April night can turn out when you come back late _
Early afternoon, the tram brought me all the way long throughout the city, but I got out halfway my usual itinerary at the Pey Berland square. I had quickly sketched the outlines of the cathedral a few weeks ago and I was feeling like I could narrow down this doodle. Instead of the front view I picked up a slightly shifted viewpoint that had the enormous advantage to be on the sunlit terrasse of a café whose waiter kindly offered me (well, that's my journal, I can make my innermost phantasms come real if I want it) a glass of white Entre-deux-mers wine. The large pedestrianized square was nearly desert, and the giant stone model offered to my sole view for getting painted while I was sipping my fresh glass. Do I need to explain you more in-depth how perfect the moment was?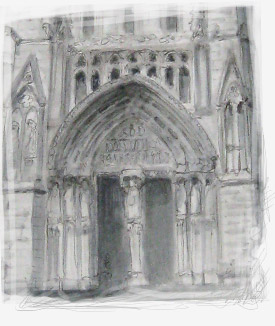 I used 3 different shades of grey of the Tombow pencils to define the values, and a thin graphite mine to trace the small details. The endless amount of intricacy that the cathedral had to offere could keep me busy for hours. In particular, the large rosace sustained my application for a while, since I had to paint its patterns in negative space. I can prove all the patience in the world when it comes to doing such a work while the conditions are as great as they actually were.
On a table close to mine a french girl speaking the most perfect english was chatting with a guy, apparently from Houston as I happened to catch, about the life in Bordeaux, the weird habits of french people, her perception of relationships and other generalities or tidbits. Her voice was adorable and I couldn't help but feel at ease within the sound of her joyful storytelling, despite the vaguely distinguishable meaning of her conversation. It reminded me in some ways of Richard Linklater's movie
Before Sunrise
, that I absolutely adore _ a masterpiece of romantic cheerfulness _.
At one point a group of loud speaking persons intercalated between my table and Julie Delpy's, plus my glass was dry and the sun was veiled.
It felt striking to observe how fast the changing weather implied a change in the crowd's behaviour. A perceptible nervousness started to animate the pedestrians passing by, and in a matter of minutes some darker clouds had gathered in the sky, the wind had intensified its blowing, filling the air with a sort of madness.
As I was walking away from the cathedral's protective gaze, I noticed how relaxed and attentive to details the drawing had made me, like if I was able to perceive another dimension of people and things. Every stone, every ivy leaf was popping up in my vision like thousands of individual candidates to being portrayed. People as well could be discerned with intriguing clarity. I could see their lips move, the expressions folding their wrinkles, the directions of their look, in slow motion and macro lens.
I saw luxuriant backyards that I had never noticed. I saw statues hiding in old vines, and the sky promising to burst in raindrops in a minute or so, and the buoyant sensation in my lungs was intensifying its presence.
This is how I walked the five remaining tram stations until the Chartrons quartier where my office lies.
Behind the wooden door the shadow was fresh _ a little too fresh for the season to say the truth_ and it was also vast and empty.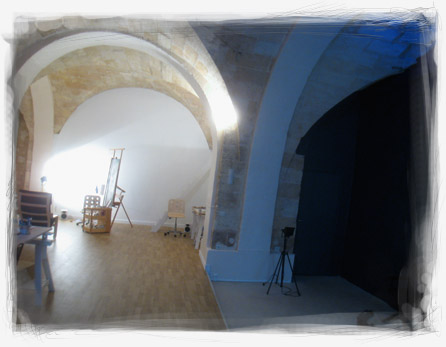 That place. Since we moved in by the end of february, none of us had found the courage to handle any of the small repair tasks that were left to do. The remembrance of 3 full months of revamping slavery was still fresh in our minds. Every evening after a hard working day until past midnight, every weekend was wholly devoted to working out the walls of our studio, doing carpentry, plaster, paint, breathing dust and dreaming of moving in.
Everything was so endlessly worth the effort eventually. Julien and I had envisaged this place years ago, right in the very neighborhood we liked the most in the city we loved to be. Then Natalie joined us and cheered up the trio with her inexhaustible energy.
That place. Sometimes when evening comes and everybody has gone, I put on some ethereal music to echo under the high stone vaults, spread some colors on my palette and paint. The space is inspiring, old and lonely. When it gets too lonely I can simply pass the door and wander a few minutes along the river walk, to get filled with more space, more air, more freedom and inspiration.
It's the first time in my life that I manage to joint my job and my painting needs
, I think to myself while spreading some plaster onto the mezzanine's ground. I, most probably, will remain overworked all the time, but I should never feel unfulfilled.
One hour of plastering the ground didn't calm me and instead I felt the urge to increase that quest for effort. It was a nice afternoon after all. The setup was quite simple: earphones spreading some sounds and those little wheels under my feet. When the ipod displayed the long artists' list in alphabetical order, my look felt on this 4 letter-long-acronym-named swedish band who had a immense success back in the disco days. I probably hadn't played this album for about a zillion years, but remembered how much I liked them as a youngster ( the girls' voices were making me fantasize a lot back then). Dancing Queen they sang, as my feet started to push, the kitsch sound fitting my moves perfectly.
I'm a bird. But I cannot fly ... I'm a bird now. I almost am, with the wind onto my face, each pressure of my leg making my run faster. The muscles bend, the chest opens and I accelerate more. When it gets fast enough you don't feel the road bumps no more; you're abroad an unstoppable race towards forward. Mouth widens to get more oxygen, its ignition hurts and makes you feel how alive you are.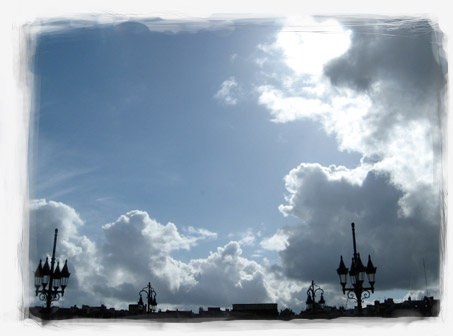 I accelerate again on the ramp climbing the famous Pont de Pierre, shiver in the humid wind blown at its top, continue to push with extended fury. Your brain gets clearer while your blood boils, while your muscles suffer.
It's often in those moments that some poetic words come to my mind. There's a storm all around and the thinking stands still, superbly focused.
Loving is such an irresponsible experience. Oppositely, being loved gives you a certain responsibility; there's not much wondering why you flee the ones who like you when you're generally so afraid of loosing your freedom.
The Avenue Thiers is straight and long, and I keep riding all the way until the beginning of the road to the hill, limit of the city. Far enough to do the u-turn and start running back. I have the legs of a robot, getting stiffer at each move, while my face becomes distorted in a grimace of pain, but I don't slow down. The never-ending slope of the bridge, the road alongside the river, longer than ever. I hope it stops soon, I hope it more and more, but I also, disturbingly, enjoy the feeling of my lungs yelling and by body explode.
In front of the very stairs from which I had started my run, the overused iPod's battery ceased to power ABBA's cheesy "I had a dream" just one picosecond after I braked toughly. That coincidence was immense but I almost considered this behavior as perfectly natural, probably the sign of an excessive separation of body and mind that had occurred during the run.
For half an hour I laid on the concrete trying to recover my breath. A little girl cried because her dad refused to let her play with my very orange skates hanging across the low wall.
Back to the office I tidied everything, washed the ground, but the exhaustion wouldn't want to come. It was late in the evening already when I took the tram. The crowd of stupid and arrogant youngsters couldn't disturb me the slightest bit, because I had my sketchbook and a cathedral drawing to wander a relaxed pen onto.
Seven minutes of walk and finally I'm there.
And you had enough of my boring babbling.