Friday 7 August 2009
I bought this little sketchblock, that has a rather low weight but it suited for inks and water-based paints. Strangely, it works: the water doesn't pass through _ although the paper tends to go all wrinkled. I automatically found it convenient for speed painting.
I did that one between two mouthfuls of corn flakes. I have this big table that occupies nearly the entire room, that endures the function of drawing area, paper storage, dining table, computer desk, candle holder and much more ( not to mention its glorious past has multi-users office table, and as .. hmm no, let's shut that part).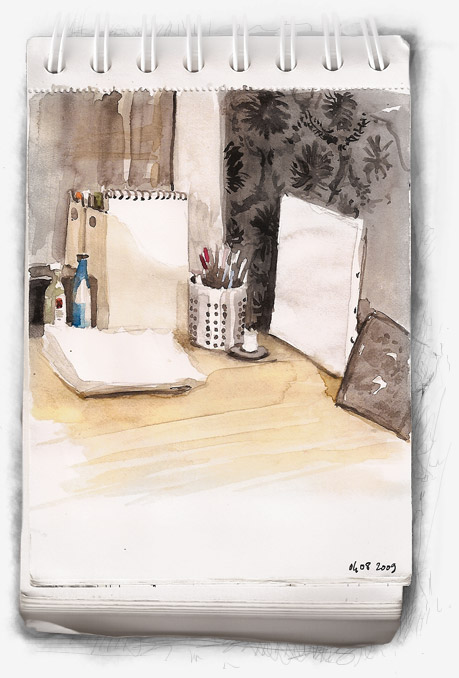 Well despite it was speed-painting I arrived very late at work. I like the painting. Was caught: a bottle of painting medium, a Delirium Tremens beer, sketchbooks, a candle, an Ikea cutlery bucket converted to a pencils pot, a small canvas for my dad with lineart longing for some paint for ten years, the awesome and inspiring 2008 Aubade photo calendar, my psychotic interpretation of the black baroque wallpaper, and that's it!
There is also this quick watercolor sketch, done on the terrace of
a bar in Arcachon, on the basin shore. Weather was dull and girlfriend pushed to hurry, so it ended up lightspeed watercolor ( ten minutes is cruel timing for the slow me) but I also like how the foam ended up looking tasty.