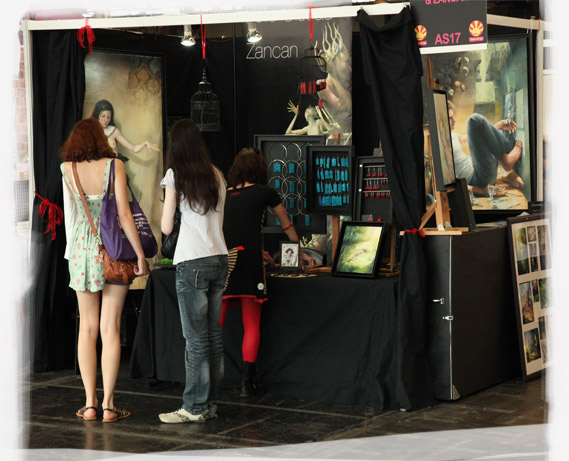 Back from my first time in Japan Expo Paris, I must admit it's been a frantic adventure, although I can't say that I found time to actually explore the convention hall.
We decide to share a stand with Zélie. Those stands are rather expensive, so it was good to split the price in two, but it was mostly the occasion to built a little universe of our own. I was exhibiting a few original paintings and selling prints of my work, while she was showcasing her handmade jewelry and goodies.
We are not specialized in the japanese culture at all, but we had seen at Polymanga that our works could fit in. Zélie had made a series of cute kawaii dolls that made a nice link between our creative universe and the theme of the convention.
To speak about the logistics, it's been rather crazy. We came all the way from Bordeaux by car, which is a 7 hours drive, carrying an immense, heavy case on the roof that I had build for the occasion. The case was meant to host my precious canvases. The day of the departure, we found out that it had rained a lot that night, and that my ( thankfully empty !) box readied on the roof rack had a one inch-deep water reserve in it... I had to sink it and rush to the nearest DIY store to buy whatever necessary to make it rainproof. We took off with a 6 hour delay. By the way, it rained all drive long on our way to Paris. Ouch..
Those four days at the convention went by at the speed of sound. We had wonderful moments, met a lot of people and several friends there. Sells went rather well, we managed to reimburse the price of the stand and, roughly, our travel expenses. No benefit at all, but load of fun! After several nights with so little sleep, and the rush of packing everything up, we left for Bordeaux on sunday evening. We had barely reach the southern suburbs of Paris that we fell asleep on a highway parking, inside the car in very uncomfortable position, and woke up only next morning.
Exhausted, but happy ! Not sure we would do it again, but we will surely give the Japan Expo Belgium a try next November !