Palais Gallien
Pallais Gallien is a roman amphitheater from the 3rd century, of which only a few walls survived. Still is has this magical feeling when you randomly fall on this majestic sight, in the middle of the night, in the secluded decal of the sleepy streets.
I stayed there sketching in dim light for a short hour, enjoying the calm and the jump over time.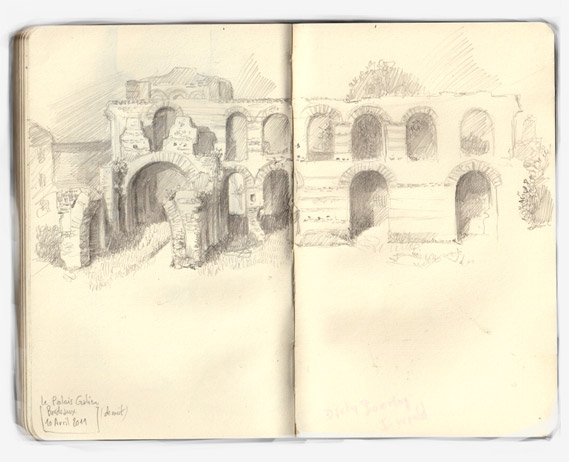 Coco
Isn't it an original name for a parrot ? ;) It's my grandparents's. It's grey, very old, and of course it can talk. Usually it doesn't like to be watched, but there it stood rather still. I think that with time this parrot is getting more sociable. okay, I'm not very good at drawing animals, because I almost never do that, but I like them ( even though they don't always like me. The parrots )
Helena
I met Helena in a train, we chatted a bit around a cup of overly expensive filter coffee that was overflowing at every bump of the railway. She is from Russia. Then I asked her if I could draw her. It was not easy, with the wagon shaking so much, and a face I didn't know, but an interesting, slighlty charming experience.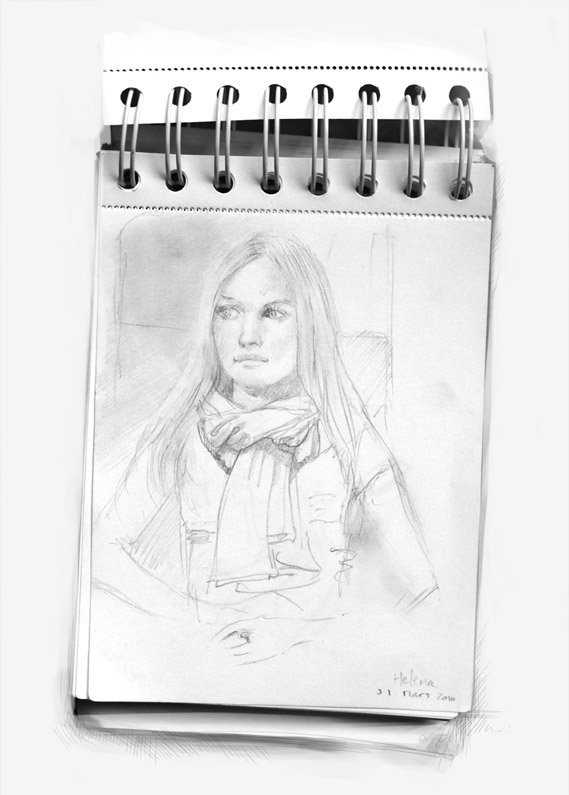 Jolita
I met Jolita in a english pub. I wasn't sure how I would manage to have here stay quiet for long enough for a drawing. Then I gave her the ipad with Cash Machine, and apparently that worked about the same way as it does on me (Damned, I'm so addicted to this game!). Although the result is very sketchy, it was a very enjoyable moment that I would have wanted to sustain. I did another with different angle before getting caught by fatigue. Really looking forward to another try.